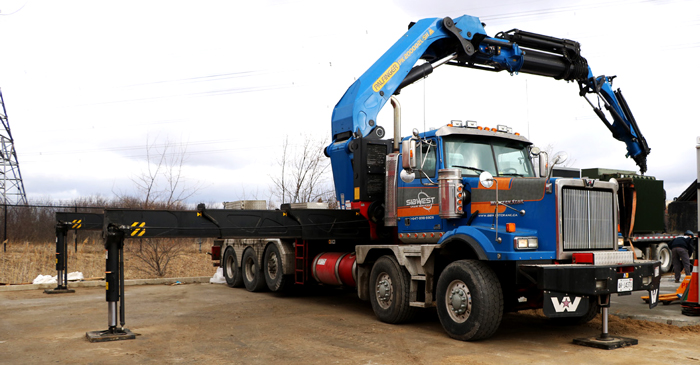 Stiff Boom Crane vs Knuckle Boom Crane
---
07.09.2019
The main purpose of the knuckle boom crane is the loading and unloading of materials and heavy objects. The knuckle boom cranes and standard cranes share lots of similarities, yet the difference between them is that in the knuckle boom crane, the boom articulates at the 'knuckle' near the middle, letting it fold back like a finger.
The knuckle boom cranes have gained their popularity because they occupy less space. Even though, the knuckle boom crane requires a high power demand and increased maintenance due to a greater number of moving parts, its manoeuvrability allows for more payloads to be transported on the back of the truck that the crane is mounted on. Since the payloads are mounted behind the cab, the entire bed of the truck stays empty. The knuckle boom crane performs lighter and faster, and adjusts better to any construction site than the regular boom truck crane.
At Sibwest Crane Services, we offer a highly maneuverable Palfinger Knuckle Boom Crane services. With up to 160' vertical reach performance and 21'6' flatbed truck that can haul up to 35,000 lbs, our Knuckle Boom Cranes load and unload machinery, concrete forms, swim spas, hot tubs, sailboats, heavy decorative stones or boulders. This type of crane is also a perfect tool for heavy window installation.
The Sibwest Crane Services company assists with installation of HVAC units, generators, roof trusses, moving furniture, and construction of structural steel. The high maneuverability of our knuckle boom cranes provides a fast delivery of any construction material or machinery to any site. No matter what type of jobsite you are working on, there is no too small or too big job for our knuckle boom cranes to handle.
Some of the most beneficial functions of the knuckle boom crane include
• High mobility
• Excellent stability, even at a height
• Compact size for storage and manoeuvrability
• High working speed
• Maximum utilisation of the working range due to the High Performance Stability Control System (HPSC)
• High Power Lifting System (HPLS) – a fully automatic system for increasing lifting power
• Very light and stiff boom system
• Active Oscillation Suppression system (AOS)
• Stability control (HPSC)
• Dual Power System plus (DPS plus) in the fly jib insert
• Soft Stop function for improved safety and comfort
• Convenient remote control equipment
---
---
Back to article list